Building
the best
The way the cue feels in your hand. The sight line as you measure your next shot. The smooth stroke on contact. Every Viking cue is built to deliver the best pool playing experience you've ever had.
Explore Viking Cues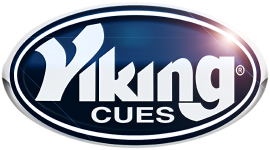 Challenging
The Paradigm
The finest woods. The best tips. Indestructible ferrule. Hand-crafted wraps. Glossy finish. Pro taper shafts. Our Viking line celebrates design innovation that will change the way you play the game.
Confidence
in Quality
Featuring rich stains, eye-catching designs and many high-end features, Valhalla cues are constructed from superior materials and exude quality craftsmanship in each one we sell. Each and every cue is inspected, checked for straightness and weighted to your specifications to ensure that it's ready for you to shoot from the moment you have it in your hands.