Posted by Mike Roque | Viking Cues on 6th Nov 2018
The Tangent Line
"…with stop–shot speed, the cue ball will leave the object ball at a 90 degree angle."
-Mike Sigel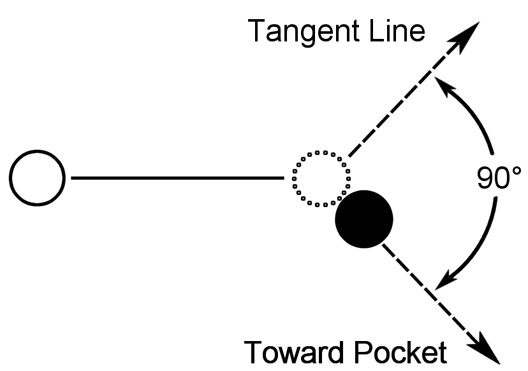 THE TANGENT LINE is a nifty little concept. Once you learn how to use it effectively, it's a big game changer.
A stop shot occurs when the cue ball hits an object ball full without any forward or reverse spin. On a straight in shot, the cue ball stops dead. However, if we play the same exact shot but hit the object ball on an angle, the cue ball will travel along a ninety degree tangent line as the graphic demonstrates.
The tangent line is extremely accurate and once you can make the cue ball follow the line, it's easy to alter that path with draw or follow. With the above example, draw would widen the angle the cue ball takes after contact, and follow would narrow it.
With experience, you can manipulate the cue ball line to avoid scratching, break up clusters, and make caroms. It's the basic skill for position play and the surest way to master cue ball control.
Master the tangent line. It's simple and accurate.

Love our Tuesday Tip of the Week with Mike Roque, you can purchase your own copy of his book "Build Your Game" at the BEBOB Publishing Website at http://bebobpublishing.com/